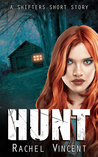 Hunt
by
Rachel Vincent
My rating:
5 of 5 stars
I love the Shifter series which is based around Faythe Sanders, who is a female werecat that becomes the first, female, pride enforcer.
Hunt is a short story that follows on from the six and final book in the werecat series, Alpha.
It is based around a young female werecat, Abby Wade. Abby makes her first appearance in Stray and it good to revisit the character to see her grown up, and over coming her fears, and doubts around her abilities to protect herself, and her friend. It is a bonus that the sexy werecat, now Alpha, Jace has a cameo in this story. He was one of my favorite characters in the original series. This is a highly entertaining story from Ms Vincent and if you enjoyed the Shifter series you will certainly enjoy this.
I am looking forward to reading the Lion's share, which is a Wildcats novel. The first book in the spin off series. Thank you so much Ms Vincent.
View all my reviews